United Nations Population Fund (UNFPA) is the United Nations sexual and reproductive health agency with a mission to deliver a world where every pregnancy is wanted, every childbirth is safe and every young person's potential is fulfilled. UNFPA seeks to: 
• End unmet need for family planning, 
• End preventable maternal death, and 
• End gender-based violence and harmful practices 
UNFPA Ghana supports: 
• Reproductive health care for women and youth; 
• The health of pregnant women, especially those who face life-threatening complications, 
• Reliable access to modern contraceptives, 
• Training of health workers to help ensure at least 90 percent of all child births are supervised by skilled attendants, 
• Prevention of gender-based violence, which affects 1 in 3 women, 
• Total abandonment of female genital mutilation, 
• Prevention of teen pregnancies, complications of which are the leading cause of death for girls 15-19 years old 
• Efforts to end child marriage, 
• Delivery of safe birth supplies, dignity kits and other life-saving materials to vulnerable population in times of emergencies, conflicts and natural disasters 
• Censuses, data collection and analyses, which are essential for development planning. 
Using the 2030 Agenda time span, UNFPA designed its strategic plan that will contribute to the achievement of the Sustainable Development Goals. UNFPA uses its strategic plan to mobilize people and action towards the achievement of the 2030 Agenda. UNFPA embraces the vision set forth in the 2030 Agenda and organizes its work around the three transformative and people-centered results in the period leading up to 2030. These include: (a) an end to preventable maternal deaths; (b) an end to the unmet need for family planning; and (c) an end to gender-based violence and all harmful practices, including female genital mutilation and child, early and forced marriage.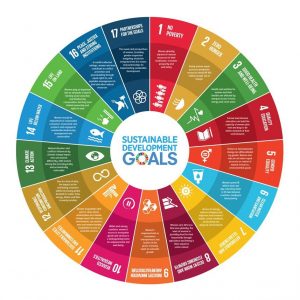 The Fund will monitor the 17 UNFPA prioritized Sustainable Development Goal with the SDG indicators. 
LEADERSHIP IN GHANA 
Mr. Niyi Ojuolape, UNFPA Representative in Ghana, has a rich career experience in international development and humanitarian work. At the UNFPA HQ in New York, he worked as the Special Assistant to the Executive Director, a position which he held for six and a half years during which he provided technical and strategic guidance to the executive management of the organization. Mr. Ojuolape also worked in the Democratic Republic of Congo as acting Deputy Representative of UNFPA. 
Before joining UNFPA, Mr. Ojuolape served the Nigerian Government in different capacities including being the Chief Programme Officer for Donor Coordination in the Nigerian National Agency for the Control of AIDS (NACA). 
He holds an MSc. in Finance from the University of Calabar, Master's degree in Banking and Finance from Ondo State University and another Master's degree from Bocconi University in Management of International Organizations