Ghana's recently out-doored National Export Development Strategy (NEDS) envisages that in the next 10 years, our Non-Traditional Exports (NTEs) will grow to $25.3 billion.
Currently our earnings for Non-Traditional Exports hover around $2.9billion and this has been the case in the last 5 years growing at an average rate of 2.97%. Compared to the total value of Ghana's exports, this figure represents about a contribution of 18% to the total national merchandise exports of Ghana as at 2019. 
If Ghana needs to prosper for all its worth, especially with AfCFTA in the near horizon, it is important that this vicious cycle is broken to achieve a competitive export-led industrialized economy. This can be done IF the NEDS is fully funded and implemented with an all-hands-on-deck approach. 
Strategies and Policies come and go. Sometimes they remain on bookshelves forever. How do we know whether this time round, this will get us 'somewhere'? 
The Honourable Minister for Trade and Industry, Mr. Alan Kyerematen, foresees that the new strategy will prescribe measures which would enable the country leverage on and take advantage of the various free trade agreements that Ghana has entered into including AGOA, the Economic Partnership Agreement with the European Union, as well as the AfCFTA. 
The lead implementing agency of the Strategy; the Ghana Export Promotion Authority is committed to ensure that this national document changes Ghana's fortunes as envisaged, for us to benefit as individuals. 
However, to do this, we all as Ghanaians need to grasp in clear terms: 
• what the NEDS is about 
• where we fit in and 
• how the strategy will succeed. 
A BIT OF BACKGROUND 
Ghana has historically exported mainly raw commodities which has consistently fetched us low prices and insufficient foreign exchange revenues. 
Meanwhile in destination market countries, considerable wealth and jobs are created by adding value to our raw material. 
To break this cycle, the Government took a bold strategic decision to transform the structure of the economy from a raw commodity export-based economy to a manufacturing industrial export-driven one. 
This was backed with the launch of the policy document "The 10-Point Agenda for Industrial Transformation". 
Ghana Export Promotion Authority (GEPA), an agency mandated under the Ministry of Trade and Industry, to diversify Ghana's exports and promote products and services made-in-Ghana, was tasked to lead the formulation of the National Export Development Strategy as a means to implement the 10-Point Agenda, complementing it with an export dimension. 
Per its mandate, GEPA focuses on the diversification of Ghana's exports from traditional export products (unprocessed Minerals, Cocoa Beans, Timber, Oil and Electricity) to non-traditional export products i.e. any export product aside the traditional exports. 
WHAT IS THE NEDS AND WHY DO WE NEED IT? 
The NEDS stands for the National Export Development Strategy. 
The Strategy is designed to propel us to break the cycle of being a raw material producing and exporting economy with only limited levels of manufactured goods and services. 
Thus, it is expected that this Strategy, with the support of Government and proactive involvement of the private sector, will transform the structure of the Ghanaian economy from raw commodity export to a manufacturing industrial export-driven economy. 
The goal of the Strategy is to achieve substantial increase in the manufactured goods and services components of Ghana's exports to attain a projected revenue of at least $25.3billion by 2029. 
WHAT DOES THE NEDS ENTAIL? 
The success of the NEDS focuses on three pillars: 
Pillar 1

 
To expand and diversify the supply base for value added industrial export products and services. 
Without huge volumes of raw material, there will be nothing to feed the manufacturing sector. For the strategy to succeed, the fundamentals cannot be ignored, hence the need to boost the supply base of products be it in agriculture, industrial art and crafts or chemical components. 
Expected outcome: 
Expanded and diversified supply base for supporting value-added industrial export products and services value chain for the priority products. 
Pillar 2
To improve the business regulatory environment for export. 
There is nothing as frustrating as working to tick all the correct boxes in order to remain productive, and encountering major setbacks from regulatory institutions. 
The strategy encourages structural changes within government agencies that positively impact on players within the export value chain. It is expected that aside incentivizing players within the export sector, these reforms will further encourage increased levels of productivity in exports. 
Expected outcome: 
Reduction in time and cost of regulatory compliance resulting in a competitive export environment. 
Pillar 3
To build and expand the required human capital for industrial export development and marketing. 
For exports to thrive, excel and succeed, it is important to ensure that Exporters are well resourced in capacity to deliver as expected. 
This 3rd pillar will involve upgrading GEPA's Export School as an accredited tertiary institution, as well as holding strategic meetings with Financial Institutions & Development Partners to provide capacity building initiatives for our Exporters. 
In the long term, it is expected that Ghana's educational system will be re-engineered to reflect the human resource needs of export-oriented industrialization. 
The ultimate objective is to orientate graduates so that they are capable of transforming Ghana's natural resources and raw commodities into manufactured economic wealth. 
Expected outcome: 
A substantial number of trained men and women actively engaged in businesses in the industrial export product and services value chains countrywide. 
HOW DO BUSINESSES FIT IN? 
Industrialization thrives on economies of large-scale production. Ghana's limited market will be inadequate to absorb the expected large-scale production of cars, agro-products, pharmaceuticals and processed/semi-processed goods. This requires a considerably larger market. Our options are to explore exporting to the global market – especially the markets closest to us hence the importance of the African Continental Free Trade Area (AfCFTA). 
The NEDS provides a specific strategy for supporting Ghanaian companies to penetrate and position their goods and services on the market. 
WHY SHOULD ANYONE CARE? 
The NEDS was put together by a broad representation of Ghanaians. It is private sector driven and facilitated by Government. 
It is the result of extensive research and consultation with a broad spectrum of persons of the organized private sector i.e. the Federation of Associations of Ghanaian Exporters, Association of Ghana Industries and the Ghana National Chamber of Commerce and Industry including the Parliamentary Select Committee on Trade, Industry and Tourism. 
COVID-19 took the world by storm and surprise and caused extensive economic damage, not sparing Ghana's non-traditional export sector. The NEDS provides practical post- COVID-19 economic recovery interventions to mitigate the COVID-19 adverse economic effects to complement the financial stimulus packages introduced by the Government to cushion the private sector against the economic ravages of the pandemic.
WHAT ARE WE FOCUSING ON? 
Since resources are limited, NEDS has adopted a priority products selection approach for concentrating resources on a limited number of products for development and marketing. 
The focus of NEDS is an Integrated List of 17 Priority Products generated by merging two categories of priority products, selected according to specific criteria. 
This does not mean that products that fall outside this list of priority products will be neglected. All other products will still be promoted as per GEPA's mandate, to bring in the needed revenues. However, value addition to these products will be encouraged as much as possible within the context of Government's economic transformation agenda. 
Below is the integrated list of the selected priority products/sectors: 
1. Processed cocoa 
2. Cashew (processed and in-shell 
3. Horticultural products 
4. Oil Seeds (processed) 
5. Fish & Fishery Products 
6. Textiles and Garments 
7. Natural Rubber Sheets 
8. Aluminum Products 
9. Articles of Plastic & Petro- Chemicals 
10. Services 
11. Pharmaceuticals 
12. Iron and Steel Products 
13. Automobiles and Vehicles 
14. Industrial Salt 
15. Machines and Machine Components 
16. Industrial Starch 
17. Sugar 
KEY PRO-INDUSTRIALIZATION MEASURES 
To enable the NEDS implementation succeed, a package of export-oriented pro-industrialization policy measures have been recommended within the Strategy. These include: 
i. Removal or minimization of duties on inputs imported for domestic and export production 
ii. In consultation with the private sector, judicious protection of local industries from "serious injury" from influx of poor quality underpriced imported goods 
iii. Ensuring sufficient, stable and reliable supply of electricity and water at competitive low tariffs for manufacturing industries and export-oriented companies 
iv. Stepping up existing measures to reduce overall lending rates to a single digit and improved access to finance at concessionary interest rates for export-oriented production in general and for manufacturing in particular 
v. Increased support of Ghana Exim Bank to export-oriented companies and funding of a significant proportion of the implementation cost of NEDS. 
Eximbank should set up a specific facility for supporting a Credit Guarantee Scheme for SMEs and a grant for export promotion. The resource allocation for Ghana Eximbank should be increased. The supervisory responsibility of Eximbank should be transferred to the Ministry of Trade and Industry for a more effective institutional teamwork. 
vi. Government procurement should as much as possible patronize locally manufactured goods and services to strengthen aggregate demand for local manufactures and services to stimulate industrialization. 
vii. Providing support to Ghanaian-owned companies operating in the cocoa value chain to integrate and forward their operations into the consumer market, where the bulk of the value chain wealth is generated in order to capture a significant proportion of the wealth for Ghana. 
viii. Re-engineering the educational system to reflect the human resource needs of export-oriented industrialization, specifically producing a significantly greater proportion of graduates in science, technology and engineering with orientation to modern agriculture, manufacturing and service industries, capable of transforming Ghana's natural resources and raw commodities into manufactured economic wealth. 
SUB-STRATEGIES WITHIN THE NEDS 
There are also specific strategies outlined to respond to the following key and emerging areas in export development and promotion: 
• Gender 
• Youth in Export 
• Disability 
• Sustainable Environment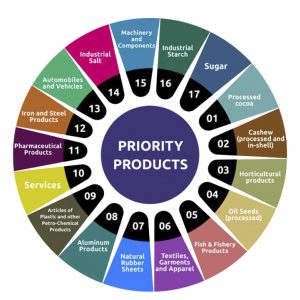 HOW WILL WE KNOW THE STRATEGY HAS SUCCEEDED – WHAT WILL SUCCESS LOOK LIKE? 
As earlier indicated in this write-up, the aim of the strategy is to increase the contribution of Non-Traditional Exports (NTEs) to GDP growth, with consequent significant increase in per capita income. In 2018, Ghana's trade surplus of US$1.78 billion was equivalent to 2.7 percent of GDP for 2018. The surplus was primarily attributed to Ghana's bourgeoning oil sector. 
It is expected that as a country, we can achieve our vision of a globally competitive economy with our value-added products and services. By being more professional and results oriented, guided by the 3 key pillars, we will know we have succeeded when: 
• NTEs contribute double-digit percentages to Ghana's total exports 
• NTEs is dominated by manufactured products 
• NTEs to AfCFTA becomes the largest contributor to the NTE basket. Currently EU tops the list with 38.1% Ecowas and other African countries combined are 2nd with 33.8%. (Source: 2019 Report on Analysis of Non Traditional Export Statistics) 
• Services exports take a centre stage in our global export portfolio and last but not least, 
• When we achieve US$25.3 billion by the Year 2029.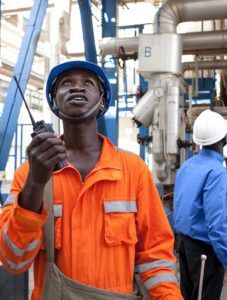 The call therefore is for all and sundry, be it in the public or private sector, informal or formal or indeed civil society to get on board now. Export Ghana, export more!