Over the years, the essence of higher education has seen many shifts, going beyond simple knowledge development to a well-rounded learning experience. 
Webster University Ghana, the only international campus of Webster University in Africa, is uniquely positioned to provide this opportunity, especially now at a time when young people seek a global experience. 
Webster University's mission is to ensure a high-quality learning experience that transforms students for global citizenship and individual excellence. Ever since the doors of the Ghana campus opened in 2014, students from across the world have enrolled each year to benefit from the cultural diversity and enriching academic environment. The lovely campus – which has dormitory accommodation – is located in Ghana's capital of Accra and in the much-coveted East Legon neighborhood. 
Webster Ghana's situation in Accra buttresses a holistic education program that marries academics with culture, history, and a continuously evolving worldview that is both African and global. Studying at this American university on the African continent offers an educational experience laced with a cultural richness. Currently, Webster University Ghana has enrolled students from over 24 different countries. 
Webster also receives a rotation of visiting faculty to teach students. The university's Ghana campus offers a growing number of academic majors, an Africana studies minor popular with American and European students who spend a semester or more, and on the graduate level, an MBA, an MA in International Relations and an MA in Human Resources Management. Graduate classes are held on only a few weekday evenings to allow professionals to continue to work while pursuing an advanced degree. 
Webster University Ghana Provides a Holistic Educational and Cultural Experience in the Heart of West Africa.
Webster University Ghana offers a hands-on approach to learning within small classrooms, not exceeding 30 students. Students are exposed to new ways of rationalizing to strengthen their critical-thinking skills through ongoing projects both in and outside the classroom. Having graduated five cohorts of students thus far, Webster Ghana alumni are part of the larger, elite network of over 190,000 worldwide. 
Webster Ghana is dual-accredited by the National Accreditation Board (NAB) of Ghana and the Higher Learning Commission (HLC) in the United States. All students receive a degree issued from the US and follow the same curriculum worldwide. The home campus in St Louis, Missouri which issues the degrees, has an impressive track record of 105 years of providing high quality American education. Scholarships are available for students and the Ghana campus has a lower tuition rate than Webster's other international campuses. 
Webster University provides the unique opportunity for students to also study abroad during their collegiate years, for a nine-week term, semester or full academic year at any of the school's campuses in Switzerland, Austria, the Netherland, US, Thailand, China, Greece and Uzbekistan.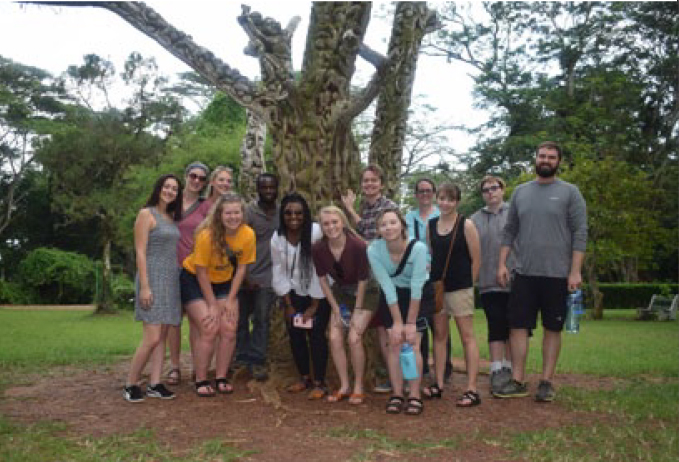 Unlike most universities with only an August year start, Webster has 5 enrollment intakes, allowing prospective students to apply at any time during the year and start in August, October, January, March or May. 
http://www.websterghana.edu/ 
http://www.webster.edu.gh/academics/ 
http://www.webster.edu.gh/admissions/