TOP Guide is a special business publication available in digital and print format and distributed with African Business Magazine's platforms.
It gives an overview of the country's driving sectors of the economy and business opportunities, representing an exceptional tool for the foreign investor. It is, in fact, a perfect channel to inform about the countries' corporate and professional environment and ultimately, to promote tourist attractions.
We work on brand enhancement, reputation management and global communication on behalf of governments and public and private sector institutions. Our mission is to create international awareness on African economies highlighting investment opportunities through a blend of communication tools (special reports, videos, media briefings, media relations, targeted advertising…) which take a retrospective look at recent developments, current economic issues and existing openings.
In cooperation with our partners, we can reach more than 2 million business executives and decision makers all over the globe.
 Excellent coverage
 Yearly exposure
 Perfect target readers
 Extensive digital distribution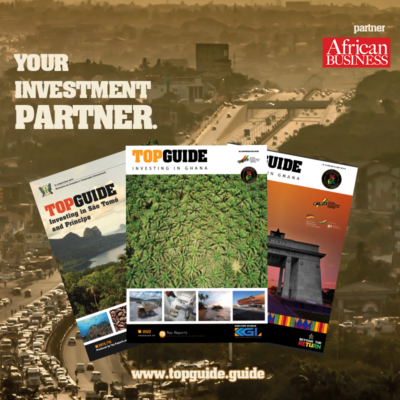 TOP GUIDE IS "THE RIGHT TOOL IN THE RIGHT PLACE" AND IS PRODUCED BY: